May 10, 2018
Date/Time
Date(s) - 10/05/2018
7:00 pm - 8:45 pm
Location
Classroom 3, Ground floor, Tabor College, 181 Goodwood Road, Millswood, SA
Categories
Genesis chapter 22 describes how Abraham was called by God to offer his son Isaac as a sacrifice. This story is set about 4000 years ago and is stunning. Some people say that it is horrible, barbaric, and even pagan, and that the religion of the Bible is primitive and no better than that of other ancient peoples. Yet this story is important to the Jewish and Christian faiths, and even in the Islamic faith, and has been so for many centuries. At the next meeting of Reasonable Faith Adelaide, we'll consider this story.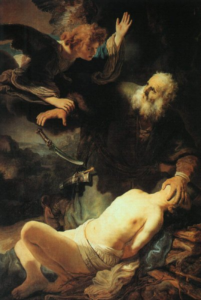 "The angel prevents the sacrifice of Isaac"
by Rembrandt van Rijn (about 1635)
Our speaker on this occasion is Geoff Russell.
Geoff believes that it's a wonderful story, which gives us significant insights into the mind and heart of God. This very story gives us reasons to believe that God is good, and that the Bible is His revelation to us. Come and hear Geoff's explanation, and make up your own mind.