July 26, 2018
Date/Time
Date(s) - 26/07/2018
7:00 pm - 8:45 pm
Location
Classroom 3, Ground floor, Tabor College, 181 Goodwood Road, Millswood, SA
Categories
Eastern Orthodoxy Part 2 – by Christopher Stabolidis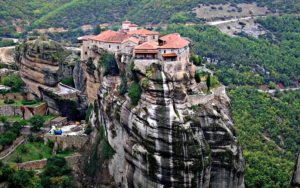 In February this year, Reasonable Faith Adelaide enjoyed its largest audience to date when Christopher Stabolidis (Chris) spoke about the Eastern Orthodox Church. Given the interest and the breadth of this topic, we have invited Chris to return for Part 2. Chris will build on Part 1 and Father Silouan's talk on St Basil of Caesarea (last meeting), and will present some more surprising facts about this ancient manifestation of Christianity. For example, did you know that during WWII, a Japanese Orthodox Christian saved thousands of Jewish people in Europe by creating fake travel documents? Chris will also cover topics where there wasn't enough time in Part 1, such as
What happens in an Orthodox Church Service,
How Orthodox Churches are designed, and
How Orthodoxy views other Christian groups?
Chris has spent some time with the monks on Mount Athos. Monasticism has been in decline in the West and so Chris will challenge us on whether we
might have let down the true front lines of Christianity or
neglected to show

young Christians a unique path of Christian service, and
non-Christians one of the most enriching and selfless expressions of Christian faith.
Don't worry if you missed Part 1, Chris will do a brief recap on most of the topics presented and you can always catch it on our YouTube site. We look forward to seeing you at what promises to be another ground-breaking evening!
Christopher Stabolidis is qualified as a lawyer and is currently working in the IT and defence industry. Christopher has Greek descent and has been involved with both Protestant and Eastern Orthodox churches.